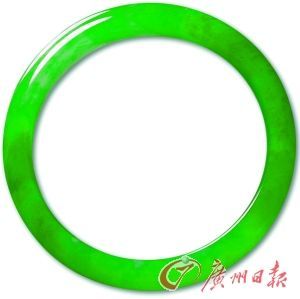 Most people think that bracelets are accessories, not collectibles. However, in fact, as a high-end collector of jade, at least one jade bracelet with good materials will be collected. Many people think that the jadeite bracelet is a kind of jewelry that ordinary people can also own, but in reality, jade bracelets appearing on the auction market are not lacking in astronomical auctions, such as an emerald bracelet that appeared on Hong Kong Christie's auction in October 1999. The price was 19.82 million Hong Kong dollars, setting the world auction record for the then jade bracelet. In any "high-quality collectors," there should not be a high-end jade bracelet.
Identification of the current appraisers: Deputy General Manager of Shenyang Cultural Relics Store, Shen Yumei Readers: Please help me identify the jade quality of this jade bracelet, and the color is not true. Is A cargo or B cargo?
Appraisal: From the picture, the jade bracelet of this bracelet is quite good, with a little purple, more natural, no signs of coloring. However, the head is still not enough, not transparent enough, in the jade jewelry can only be considered moderate, the market price is between several thousand dollars and 10,000 yuan, can not reach the level of collection.
What is a good jade bracelet so expensive? Why do high-end collectors have to spend at least a good bracelet? Shen Yumei said during the interview that it was because of the need for large jade materials for the production of bracelets, and it was not possible to use corner materials as with other small accessories or carving products. Secondly, Jadeite Bangle and White Jade Bracelet are different, mostly "like body" (that is, do not engrave any pattern on the surface), for its quality is good or bad, even if it is not connoisseurs can also be clear, so you need to choose the best material.
Bracelet expensive due to the need to use aniseed. "Good jade jade bracelets need good head, good color material." For many years Feng Yun collection jade said that he has collected a few good jade bracelets, occasionally used to wear decorations, but more It is important to enrich their own collections. In addition to collecting jade carving pieces, Tibetan friends around them will also collect pendants, rings, bracelets, etc. "Porcelain paintings can only be displayed and played, and streets cannot be held in full. Jade is used as jewelry. Both can be used with decorations and can be stored. I feel more fun."
Some collectors believe that since the collection of jade bracelets is more for material, it is not more profitable to collect the original stone. In this regard, Shen Yumei believes that the risk of collecting finished products is relatively small: "The production process of jade jewelry is very demanding. I don't know how to open materials and how well we do it. The material master is critical. Why do we say that Jieyang's merchants went to Myanmar to bid for the original stone? The most competitive, because the local cutting materials technology is the highest, and can maximize the use of the original stone.For example, if an ordinary master opens a piece of material, only five bracelets can be made, and a good master can create six or seven bracelets on the same piece of material. This is also the reason why Jieyang businessmen dare to open a price." But collectors themselves may not be able to understand what the masters need to open for processing.
The production process of the bracelet is not difficult, but the consumables are large. Jade bracelets are generally not engraved and processed. Emerald rings are generally egg-shelled, while traditional white jade bracelets are multi-worked. Usually, some poems or traditional themes such as "Shuanglong Tuzhu" are often carved to match the white jade culture. Connotation. However, the new white jade crafts are now more pursuing bodily effects.
"Person" value does not lose "flower"
"In a sense, the value of prime jadeite products does not lose flowers." Shen Yumei said that the current trend of jade pendants is to "hing" leaves and gourds, but really good materials will not be used to sculpt flowers. For example, in the past, the "blessings of life and prosperity" and "every year after year" were used to remove the problems of jadeite jade. "Especially today's materials are so expensive that the carvers will not be easily wasted. "
"So I think the bracelet is more collectible," Feng said. However, not all jade bracelets have a collection value. Shen Yongmei told reporters that good jade bracelets cost at least several hundred thousand yuan or even more than one million yuan. On the market, those well-watered and old pit materials, even if there is nothing green, are priced at around 100,000 yuan: "Now many collectors like it. To play old jade, many of them are old pit species, and the materials are relatively delicate. Although they are colorless, they must have a value of 100,000. The collection-grade jade bracelet must cost at least 50,000 yuan."
Of course, there are also tens of millions of jade bracelets on the market. At the Hong Kong Christie's auction in Hong Kong in 2010, the valuation of the Jade Bracelet was said to be at least 30,000 to 50,000 yuan, which is also the "starting price" of the collection. If it is a few hundred yuan jade bracelets on the market, Shen Yongmei said that its "stone" is very heavy, the particles are very thick; and really good jade jade bracelet is very strong jade, the structure is very delicate.
Tips Bracelet Bracelet Collection Potential Before buying the bracelet, first carefully observe whether the bracelet is cracked. Be sure to check the front and back sides of the bracelet, especially check the red line of the bracelet for cracks or breakage. Find out the flaws of jade bracelets, including the black or yellow spots that appear on the bracelets, the white "stone flowers" and the original jade that is not broken. A good jade bracelet should be "kind of colored." "A kind" refers to the delicate and translucent jade crystal and transparent, "colored" mainly refers to emerald green, violet, cyan, unique "three-color jade" or "four-color jade." Today's water-quality bracelets are worth more than collections of good bracelets.
In addition, the jadeite bracelets currently on the market are usually divided into flat mouths (also called flat bars in the outer circle) and round bars (inner circles in the outer circle). The cross-section of the "round bar" bracelet jade body is approximately circular, which is both beautiful and generous, but it needs to consume more jadeite raw material, and because the inner diameter is arc, it is easy to pick up. The "flat mouth" bracelet is to sharpen the arc of the inner diameter of the round jade bracelet. The inner diameter of the bracelet is the same as that of the flat bracelet, which saves raw materials and is comfortable to wear. Some raw materials make the standard circular shape very reluctantly. Even if there are very few people who may be suitable for wearing because of the small inner diameter, the bracelet will be made flat to ensure the purpose of saving raw materials without affecting the wearing. This kind of bracelet is called "King Bracelet". Among them, round-bar bracelets are more expensive and wear better, and have a considerable collection potential.
All eyes will be on you with statement wholesale fashion Jewelry Earrings from ORDRM®. Discover large assortment of wholesale earrings, Chain Drop Earrings, Long Drop Earrings, stainless steel Stud Earrings and Stainless Steel Hoop Earrings at wholesale. China factory direct wholesale high quality stainless steel earrings. True wholesale pricing & volume discounts. Fast shipping & amazing service. Choose your style now!
Details of our jewelry earrings:
Main metal: 304 or 316L stainless steel
Main stones: crystal rhinestone, pearl, cubic zirconia
Plating color: IP or PVD plated gold, rose gold, black
Finish: high polish, matte finish, brush finish, sandblasted
Packing: opp bag or velvet pouch or gift box
About ORDRM®
Dongguan Original Dream Jewelry Co.,Ltd is is an OEM jewelry factory which has focused on manufacturing stainless steel earrings for 8 years. We offer large selection Fashion Jewelry earrings for wholesaler or distributor. You can find all kind of fine jewelry earrings, stainless steel jewelry earrings, gold plated earrings in this page. All earrings are made from our own factory in China. Whatever you are a group or individual, we will do our best to provide you high quality & best price wholesale jewelry earrings.
Jewelry Earrings
Jewelry Earrings,Chain Drop Earrings,Long Drop Earrings,Jewelry Fine Gold Earrings
Dongguan Original Dream Jewelry Co.,Ltd , https://www.ordrm.com